The Problem: Introduction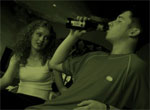 Some teens are much more likely to drink alcohol than others. The prevalence of underage binge drinking within the state of California is similar to national trends: although many underage youth drink, the percentage that binge drink is small (i.e. approximately 25% of 11th graders binge monthly). However, given recent research on the effects of binge drinking on adolescent brain development, any binge drinking done by youth puts them at risk both for the present and the future.
Specific risk factors/attributes may make certain individuals more at risk for alcohol use and abuse than others. The factors that put teens at risk for alcohol use and abuse include the following:

Childhood behavior. Teens that were aggressive and antisocial, or impulsive, restless, and easily distracted as young children are more likely to have alcohol-related problems in their teenage years.

Mental or emotional problems. Teenagers that suffer from anxiety and depression disorders are much more likely to abuse or be dependent on alcohol. Problems with alcohol can sometimes lead to depression and anxiety, but, more frequently, teens with depression and anxiety disorders seek out alcohol and other drugs to avoid dealing with the pain caused by these illnesses. Teens with conduct disorders or certain types of attention-deficit disorders are also more likely to have problems with alcohol.

A family history of alcoholism. Children of alcoholics are much more likely than other teens to start drinking during their teenage years.

Positive parental attitudes toward drinking. Teens with parents who drink or express favorable attitudes toward drinking are more likely to start drinking sooner and to continue drinking. Teens that are warned about alcohol by their parents are less likely to start drinking.

Home environment. Teens that come from homes where parents provide little emotional support for their children, fail to monitor their activities, or have little involvement in their lives, are more likely to drink, and to drink heavily. Harsh, inconsistent discipline and hostility or rejection toward children have also been found to lead to adolescent drinking and alcohol-related problems.

Positive peer attitudes toward drinking. When a teen's friends drink, accept, or encourage drinking, the teen is more likely to drink.
Peer pressure begins early. One-third of 4th graders and more than half of 6th graders say they have been pressured by friends to drink alcohol.
Trauma. Adolescents in treatment for alcohol abuse or dependence report higher rates of physical abuse, sexual abuse, violent victimization, witnessing violence, and similar traumas than other teens.

Further examination of how stress, anxiety, and depression interact during adolescence may also influence the initiation of alcohol use. Adolescence is often characterized as an emotionally stormy period. Though most children navigate this transitional period without serious problems, about one-third to one-half of adolescents report significant mood or affective disturbances that could be described as "inner turmoil" or "feeling miserable". This anxiety and stress play an important part in adolescents' initiation of alcohol and other drug use. In one research study, perceived stress was found to be the most powerful predictor of adolescent alcohol and drug use, after peer substance use.
The introduction of distilled beverages such as alcopops, provides additional "sweet" beverage choices for youth which may increase the risk to binge drink, as well. In this section, we will discuss the prevalence of underage youth who drink—in particular, binge drink. We will start with data from the state of California, and then look at national trends.

References